BILD Grande Prairie
The voice of the home building, land development and renovation industries in the Grande Prairie area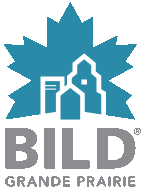 We are thrilled to announce that CHBA-GP is now BILD Grande Prairie.
What exactly is BILD? BILD stands for Building Industry and Land Development, reflecting the 2017 provincial amalgamation between CHBA (Canadian Home Builder's Association) and UDI (Urban Development Institute). Between their common interests in all things related to residential construction, the two bodies realized their positions together could be stronger and more powerful when it comes to advocating for land development, home building and renovation industries. The BILD partnership provides one unified voice – providing real solutions to benefit homebuyers and homeowners.
Thinking of buying a home in Grande Prairie? With all of the decisions that come with this big step, the first choice to explore is whether to buy a brand-new home or one that has been pre-loved.
Learn more about the reasons you should consider a new home on our new home page.

BILD Grande Prairie Featured Event:
2023 Home & Garden Show
The 2023 Spring Home and Garden Show is one of the largest trade shows in Northern Alberta! We showcase over 200 booths, with a wide variety of exhibitors! It's fun for the whole family! We are proud to announce our Title Sponsors, the County of Grande Prairie, for this years show! Enjoy a variety of our local businesses who are ready to help you with any of your spring and summertime needs! Our 2023 Show will be taking place April 14th, 15th, 16th at the TARA Centre Evergreen Park. Save the dates. We can't wait to be back this spring with another amazing show. 
Frequently Asked Questions
As of February 1, 2014, all new homes that were built in Alberta are protected under warranty.  The New Home Buyer Protection Act encourages high quality standards, making sure your home stands the test of time.
At minimum, your new home warranty covers 1 year for labour and materials, 2 years for delivery and distribution systems, 5 years for building envelope protection, and 10 years for major structural components.
There are a number of companies in Alberta the provide new home warranty that your builder may partner with.  Contact your builder if you have questions about your home's warranty provider.
More information can be found here.
CHBA offers all members and their staff have discounts and special offers available to them through the CHBA National Advantages program.  You must be signed in to their website to access these perks.  To create an account, email communications@chba.ca
Subscribe to Our BILD GP Newsletter